Table of Contents
Where to shop in NYC?
New York City is an urban paradise for shopping enthusiasts. The emblematic city of the USA is home to numerous celebrities, business people, and fashion designers, so becoming a hub of uniqueness was only natural. But what are the cool shops in NYC and where can you find them? Let's find out.
One of the oldest book stores around is still opening its doors 6 days a week since 1974. It's a paradise for bookworms that love mysteries, crimes, historical fiction, and thrillers. You could spend hours looking at the huge collection of titles, that include limited editions and books signed by authors. The store offers 7 types of monthly subscriptions called "crime clubs".
If you're just visiting NYC you might not be able to take a couch home, but this exclusive home decor store has tons of unique items. Aside from modern pieces of furniture and decorations, here you can find vintage treasures and antiques from the 18th century, some in the original condition, and some after they got repurposed.
A collection of everything weird. This shop in Manhattan is the perfect place to buy presents for someone who likes uncommon objects. It has everything from bones and preserved specimens, to minerals, fossils, and pieces of meteorites. You can even find weird candy, jewelry, home decor, and toys. Cricket snacks and scorpion lollipops are a delicacy here. Looking for a shark in a jar for grandpa's 80th birthday party? You've come to the right place.
Founded in 1930 this shop for everyone with a sweet tooth is located in Lower East Side and has mostly kept its old-fashioned atmosphere. It has everything: imported candy, old school candy, vintage dispensers, vintage trading cards, sugar-free candy, and much more. Over 2000 types of sweets await you here.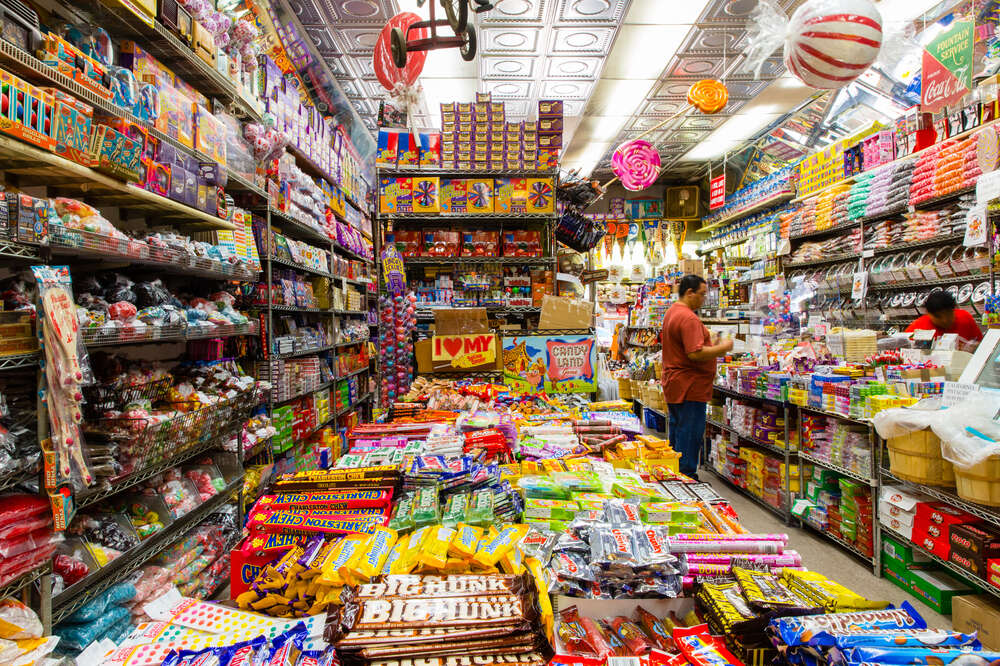 The shop has themed collections as well for different occasions such as Halloween, weddings, and baby showers. You probably won't be able to decide what to buy and you'll leave with too much stuff.
Not really a store, but maybe better. With two locations, in Williamsburg and Chelsea, this NYC marketplace brings together dozens of vendors every weekend so you'll always be able to find new merchandise. There are always tons of handmade items, vintage objects, antiques, clothes, jewelry, etc. 
This 10-floor store is the place to be if you're looking for clothes, shoes, jewelry, makeup, and everything else. It sells items from most big brands and luxury designers, including Prada, Valentino, Alexander McQueen, etc, so this is in no way a budget store.
However, if you're looking for luxury brands at a fraction of the cost, head over to SoHo and start a treasure hunt in the Housing Works store. A portion of the money earned from selling vintage items goes to the homeless and the ones battling AIDS. 
It would take you years to browse through all the cool shops in NYC, but I hope my small list narrowed down your search just a bit.