Table of Contents
Everyone knows that France was a place of opulence and luxury during the old times, and its rulers liked to display their wealth and power by building castles, mansions, and palaces. They didn't stop at the impressive exterior of many of them but put a lot of work and money into decorating them in the latest fashion. France has around 6000 castles scattered all over the country, and while many of them are in ruin, there are others that still make us gasp in wonder as we marvel at their interiors, architecture, and gardens. On this list, I'll show you 20 of the most beautiful castles and châteaux in France.
Location: Place d'Armes, 78000 Versailles
We must start with the most famous French building, even if it's a Palace because it has been the epicenter of French history, intrigue, drama, culture, art, and fashion since the days of its beginning. Louis XIV built this beautiful palace as a way to display his opulence to the rest of the world. Everyone can visit the gardens for free, and the palace can be visited most of the time. Guided tours are required for some restricted areas.
Location: Montée de l'Emir Abd el Kader, 37400 Amboise
This beautiful French castle was built in the 11th century and it's the burial place of Leonardo Da' Vinci, who spends eternity in the small chapel of the castle. The Renaissance and Gothic architecture and interior of the castle makes it fit for a king, and it served as such for Charles VIII and François I.
Location: Château, 41250 Chambord
The most famous castle in Loire was built in the 16th century by King Francis I who wanted to use it as a location for his hunting. After going through multiple disasters, damages, and restorations, today the castle receives over 1 million visitors a year. Its classic French architecture served as an influence for the castles built later all across France. 
Location: 37150 Chenonceaux
Known as "Château des Dames" for the many women who helped at building it, this castle is a beautiful example of a Gothic and Renaissance architectural transition. Catherine de Medici, the wife of King Henry II used to have lavish parties here after getting the castle from the king's mistress. Today this is the second most visited castle in France.
Location : Place du Général de Gaulle, 7730
The medieval Renaissance castle is located close to Paris and it was built around the 12th century. Many kings have used it as a royal residence because of its proximity to the capital and the forest surrounding it where they could enjoy hunting. The most impressive thing about this French castle is the interior, which has an opulence that can rival the Palace of Versailles. The lake is the home of numerous swans and ducks that are friendly to visitors and can be fed. There's a museum inside and it would take you a very long time to see the whole thing because the castle has a staggering 1500 rooms. If you visit with children, they will definitely enjoy the boat rides and a picnic in the very large gardens.
Location: 60500 Chantilly
Newer than other castles on this list, built in the 18th century, but with an impressive collection of art, books, manuscripts, and a massive art gallery. The gardens and the stables rival many of the European royal residences. There's even an equine museum in the area of the stables that showcase the bond between people and horses, and it even offers live shows and riding demonstrations that have been taking place for the past 30 years. If you visit Paris, this French castle is close and can be easily visited during a day trip and it also features a small restaurant.
Location: Place Pierre de Brosse, 37130 Langeais
The beginning of Château de Langeais was traced to the 10th century to a building of wood that was almost destroyed during the wars. It was rebuilt in the 15th century from the order of King Louis XI. Today it's one of the best castles to visit in France. It's surrounded by a beautiful park that is accessible to the public, a big collection of tapestries from the 15th and the 16th centuries, a museum, and activities for the whole family.
Location: 47500 Saint-Front-sur-Lémance
Overlooking a lush forest and valley, this 13th-century castle looks like something out of a fairy tale. It might look like a ruin, but the interior is simply furnished after the medieval interior fashion. It lacks the luxury and opulence of some châteaux and castles in France, but its history makes up for it. The castle was built to withstand an attack and features numerous defensive mechanisms. Visitors can take part in various activities such as movie screenings, craft classes, and sword fighting. 
Location: 41700 Cheverny
Have you ever wanted to sleep in a 17th-century French castle? At Château de Cheverny you can do just that. It might be smaller than others, but the interior is just as magical. It features beautiful antique furniture and decorations that make it seem like time has stopped here. Aside from the park and the gardens, the castle also has a kennel with over one hundred hounds (puppies included) that visitors can interact with all day. 
Location: 67600 Orschwiller
The medieval ruins of this 12th-century castle have undergone major restorations and now is one of the most surreal and romantic castles in France. Its quite unique position that oversees the Upper Rhine Plain made it a strategic point during wars. Today it's more romantic than anything to look at the valley from the castle's balconies. The interior features a generous exhibition of items recovered from the original building before its restoration There are plenty of kid-friendly activities that take place here as well, and the castle features a small restaurant where visitors can take a break.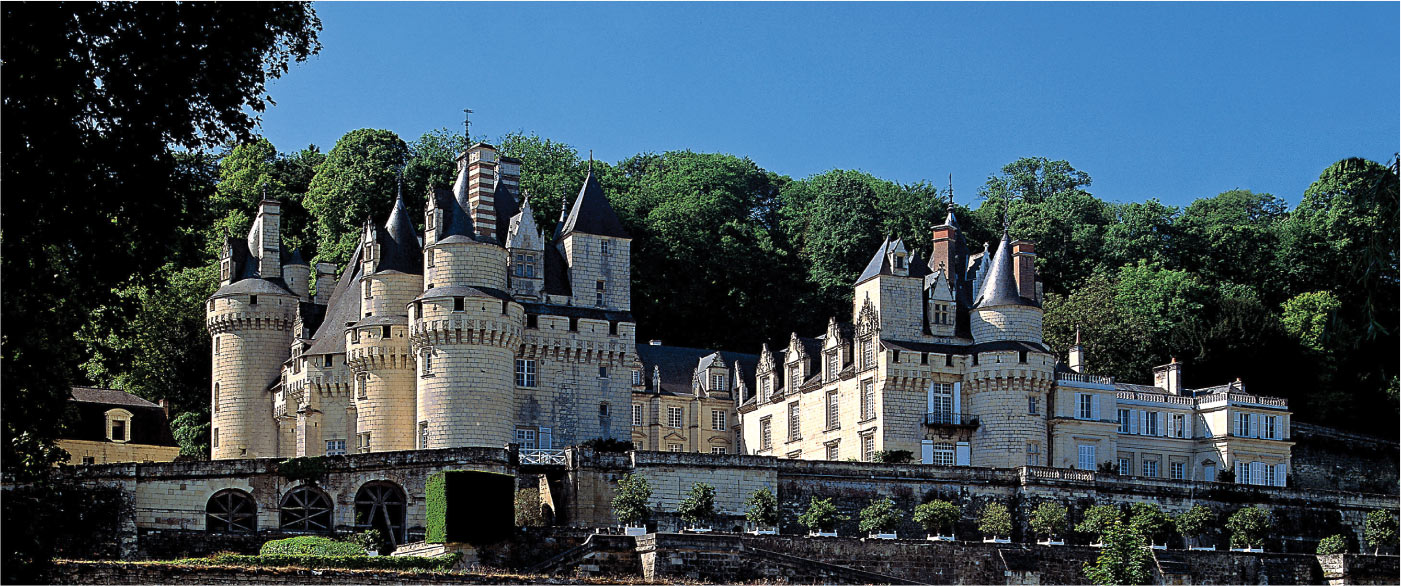 Location: 37420 Rigny-Ussé
It's not sure when this storybook castle was built, but it was purchased a ruin in the 15th century by Charles VII, who started restoring it. Over the centuries it was modified continuously, and by the 19th century it ended up looking the way it does today. The castle is so beautiful that it served as an inspiration for many Disney castles, as well as for Charles Perrault while writing Sleeping Beauty. Fashion exhibitions are a thing here and the interior is richly decorated in the most luxurious renaissance style. 

Location: Rue de Pineau, 37190 Azay-le-Rideau
This castle is one of the earliest displays of Renaissance architecture built in the 16th century by the King's treasurer. It might be smaller than others, but the interior features many elegant rooms, decorated in styles of different periods. Its gardens spread over 8 hectares of land, where visitors can spend a quiet afternoon away from crowds because this French castle is not as popular as other bigger ones. One of the most interesting events that take place here are projection shows on the walls of the castle, which are sure to entertain the guests.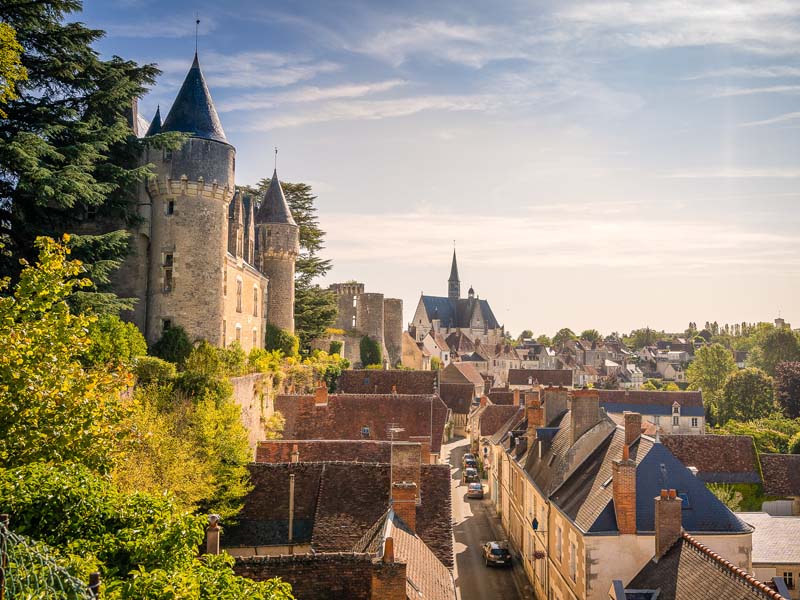 Location: 11 Rue Xavier Branicki, 37460 Montrésor
A beautiful blend between Gothic and Renaissance architecture, this castle was built over a medieval fortress built in the 10th century. Even though most of it was demolished to be replaced with the castle that we can see today, it still keeps some old feel of the fortress within its walls, even though that area of the castle is partially ruined. Its interior displays a wide collection of art, furniture, and silverware that can be admired by visitors. Regular events are held on the castle grounds, such as family events and art fairs.
Location: 4 Place Marc Elder, 44000 Nantes
Built around the 13th century, this large French castle was the residence of many political men along the centuries. Today it features a big museum consisting of 32 rooms with various exhibits and it's beautifully illuminated at night. It might be one of the more crowded French castles, but it's well worth the visit. The guides will give you a tour and teach you about the local history, but you will probably have to dedicate a whole day to visit this imposing edifice.
Location: Route du château, 24220 Beynac-et-Cazenac
If you wish to see a truly inspiring fortress, then you must visit this 900-year-old French castle that served as a residence, as well as a defense strategy. The great edifice rests perched high up on a cliff, overlooking the Dordogne. The interior is not opulent but simply furnished in the style of hundreds of years ago, to cast a light upon the way day to day life in the castle used to be like back then. And you get to visit the room of Richard the Lion Heart while you're strolling through the massive building. 
Location:  Rue de la Belle au Bois Dormant, 17250 Saint-Porchaire
The very large 17th-century castle is the perfect place to visit with family, or even better, the perfect place where you can get married. It's very intimate, surrounded by a forest, and it offers the perfect example of a classic French garden with flower beds, ponds, and ornamental statues. The interior can be visited as part of a tour because it's a private residence, but the gardens of the castle are often used for weddings, events for children, medieval battles reenactments, and other events for the whole family. If you'd like to live on the grounds, the cottage of the castle is available for rent. 
Location: 77950 Maincy
We had to have a Baroque French castle on our list, and this one is the perfect example of classic Baroque architecture built in the 17th century. The architecture and interior design of this location marked the beginning of the "Louis XIV style", also known as "French classicism", which greatly influenced the style of other monarchs in Europe. It was used as a filming location for several productions. Even though it's in proximity to Paris, it's not normally crowded, so it would be a good idea to stop in the gardens for a picnic while you admire this architectural work of art. 
Location: 50170, France
This is probably the most popular tourist attraction in Normandy. Its history starts around the 6th century and it involves Vikings, but the beautiful castle that actually serves as a monastery was built around the 11th century. Visitors who are fans of the Harry Potter franchise are always impressed by the similarity between Hogwarts and many parts of the gigantic castle. It also served as the inspiration for Rapunzel's castle in Tangled, the loved Disney movie. Currently, this is on the list of UNESCO world heritage sites. 
Location: 9 Route de Langeais, 37190 Azay-le-Rideau
This French castle was built in the 16th century on a small island on the Idre river. It's small, but very beautiful and secluded, making it a very intimate location for those who want to enjoy a moment of reprieve. There is a shop and a bar on the grounds and the interior can be visited as well. Even though the castle is more of a hidden gem of France, it's known for the beautiful love story that took place here, between Camille Claudel and Rodin, whose sculptures can still be admired on the castle grounds. 
Location: 84000 Avignon
Built in the 13th century, after the papal seat moved to Avignon from Rome, it served as the residence of many popes of Western Christianity including Benedict XII, Clement VI, and Urban V. It's considered to be the largest Gothic castle in the world, with over 160,000 sq ft of floor space. Many terrible things happened here, murders, massacres, and plots. Exhibitions and other events are regularly hosted here and most of its interior can be visited all year.