Table of Contents
Madrid, the capital of Spain, is one of the most sought-after urban escapes in Europe. The history, nightlife, splendid weather, and every location brimming with culture have been bringing millions of tourists and leaving them in awe. 
The good thing about Madrid is that it's an overall safe city, so no neighborhood should give you any issues when it comes to that. If you want to discover most of what the city has to offer, I recommend spending 5-7 days, so the budget for your accommodations should be thought about in advance.
Because of its popularity and, its considerable size of over 370 square miles, Madrid offers all sorts of accommodations for every budget, in every part of the city. In this article, I'll show you the best places to stay in Madrid, depending on your budget.
Center of Madrid
For those who don't want to miss a second of the busy nightlife of the city, I have quite a few options of hotels or hostels close, or right in the center of Madrid. The good part is that you don't even have to spend a ton of money to stay here. Staying in the heart of the city, you'll get to be within walking distance of famous architectural treasures, museums, great dining, and all sorts of recreational activities. 
Hostel La Casa de La Plaza has some of the cheapest rooms, starting at $38 a night. It offers basic necessities but it's not Hilton, so if you're planning to stay out, party, and explore the city it's not a bad deal at all. 
Hostel Vázquez de Mella – Gran Via – is another popular cheap alternative, with rooms starting at $45/ night. It's located in the Pedro Zeloro Plaza in the center, close to many museums and cafés.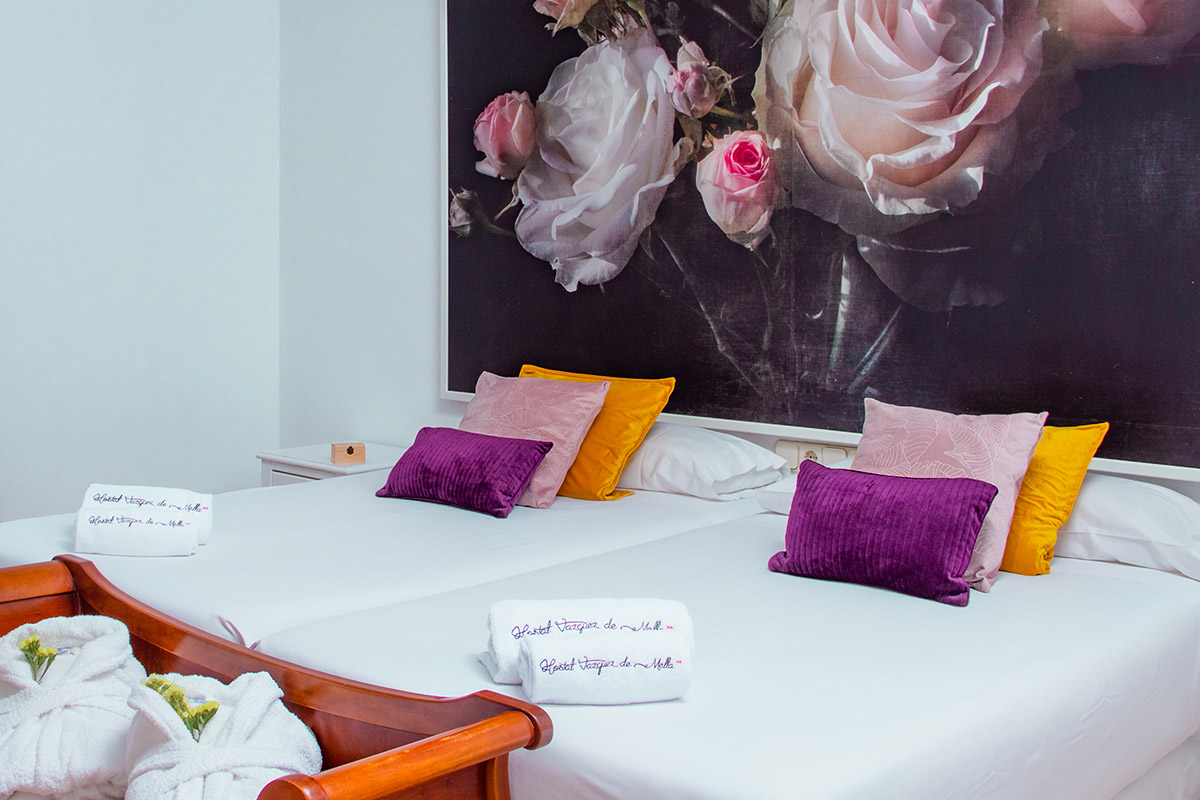 If you're traveling with a group, and you don't mind bunk beds, RC Miguel Angel has rooms available for $40/night in Plaza de Celenque.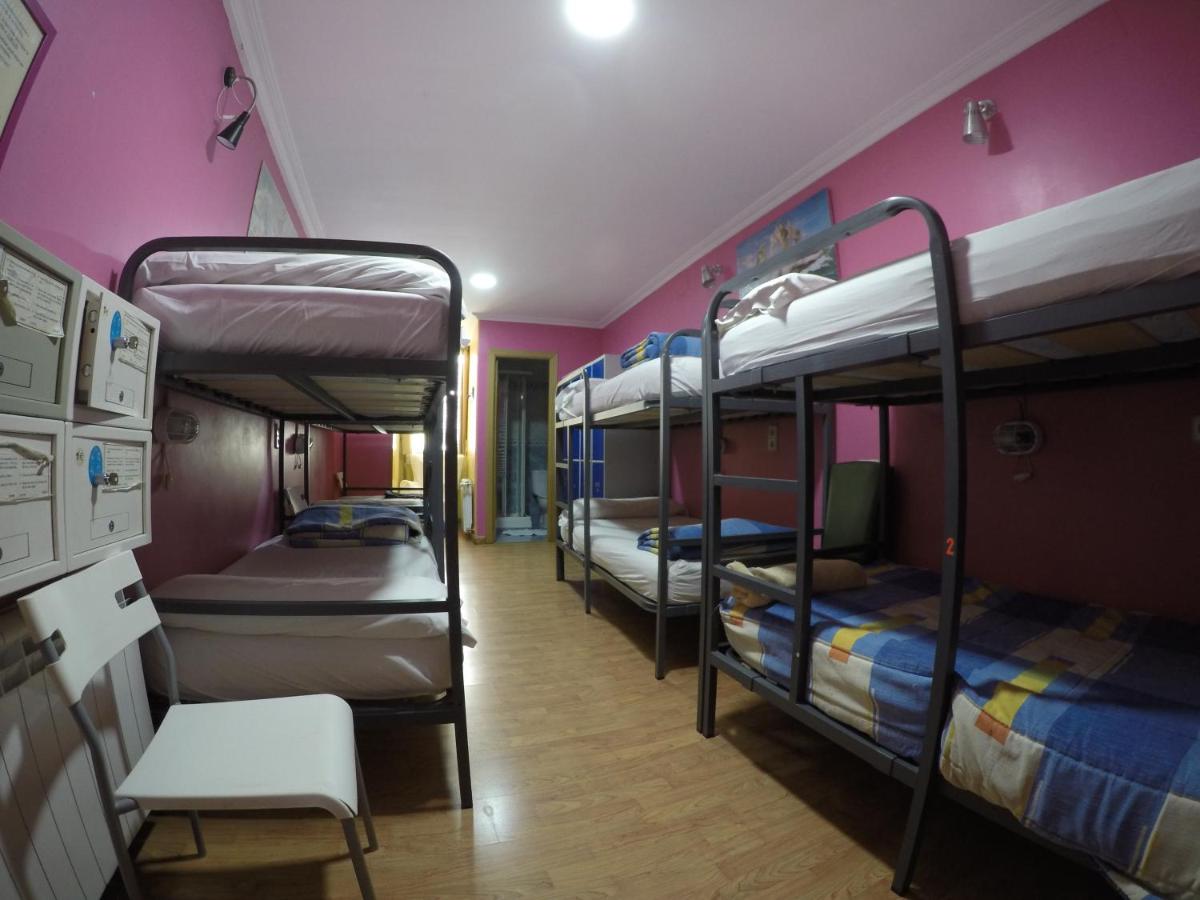 Hostels are in general quite popular with bigger groups of tourists or budget travelers, so here is a list of other popular hostels in the center of Madrid that have affordable rooms:
If you prefer an actual hotel for under $100 you can try the following budget-friendly ones in the center:
Of course, not everyone is looking for budget alternatives and wants to live a high life in extravagant and unique hotels. Thankfully, I have a few of them that will help you enjoy your vacation to the fullest. 
Riu Plaza España is one of the emblematic buildings of Madrid, with rooms starting at $130 a night. It has one of the best views in the city and its popular swimming pool is the perfect amenity for when the weather gets unbearable, which happens quite often in Spain.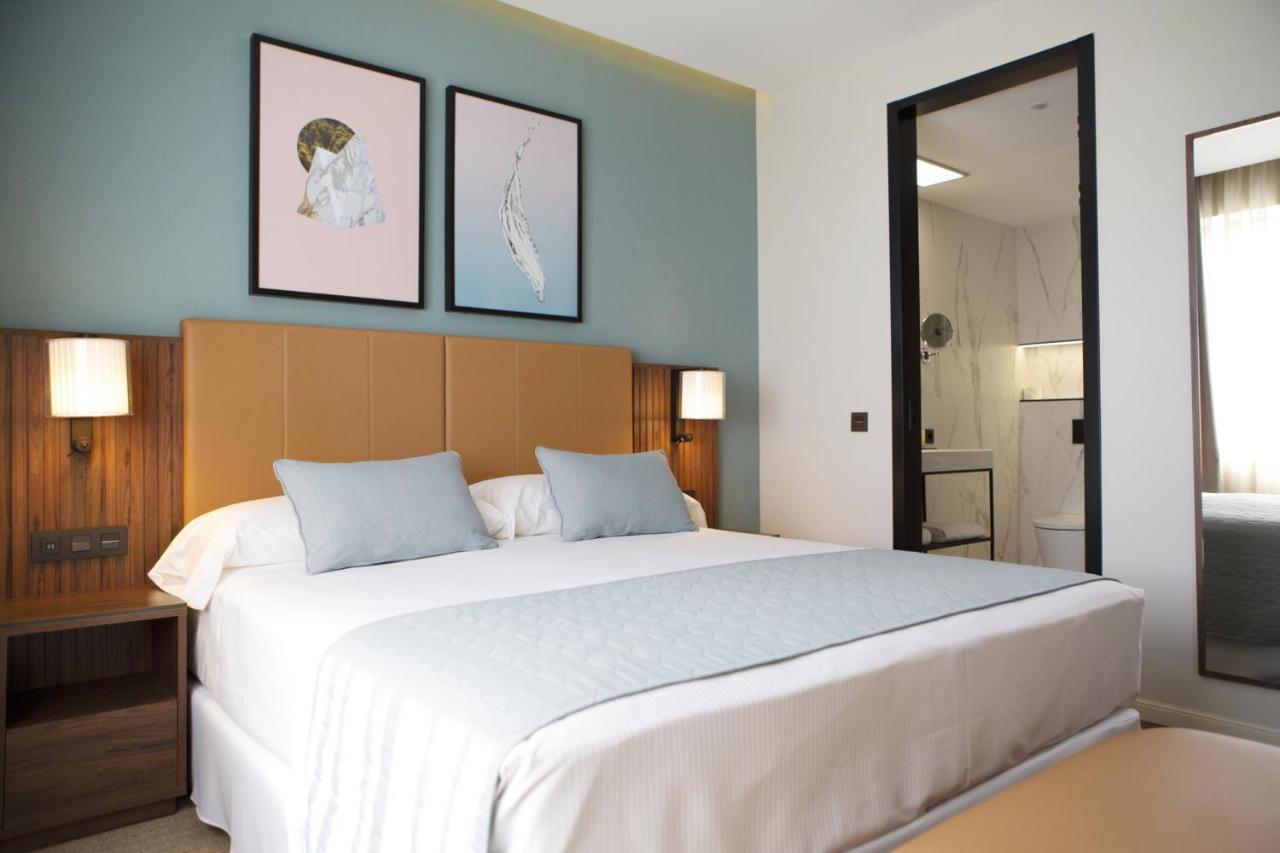 URSO Hotel & Spa is a luxury boutique hotel in a magnificent building, and it offers some of the most elegant rooms and apartments around, with exotic terraces and various amenities such as an area for children, a beautiful spa area with a pool, gym, massage, facial treatments, and much more. The prices start at $200.
Anyone who wants to feel like royalty can get a room at The Westin Palace, a hotel that looks like it was designed by royalty for royalty, in the best location in the city. It's been used for over a century, and it has been the location of many historical events. The prices start at $190/ night.
But probably the most luxurious hotel in Madrid is Hotel Gran Meliá Palacio de los Duques with prices starting at $400. It features a big historical garden, a rooftop pool, a spa, and splendid rooms in a neoclassical palace. If you want to splurge on accommodations and be treated like royalty, this is the place to be. 
La Latina Neighborhood
Another great area of Madrid is La Latina, a Bohemian neighborhood known for great nightlife, bar hopping, historical sites, and the largest flea market in the city where you can score real antiques and vintage items. It's a vibrant and colorful location in Madrid, and the accommodations tend to be more on the affordable side, so perfect for budget travelers. Aside from apartments and duplexes that you can rent by night, which are popular in the area, there are several hotels and hostels that won't make a hole in your wallet.
THC Latina Hostel is a very chic establishment starting at $85, close to the center, and with many types of public transportation options around.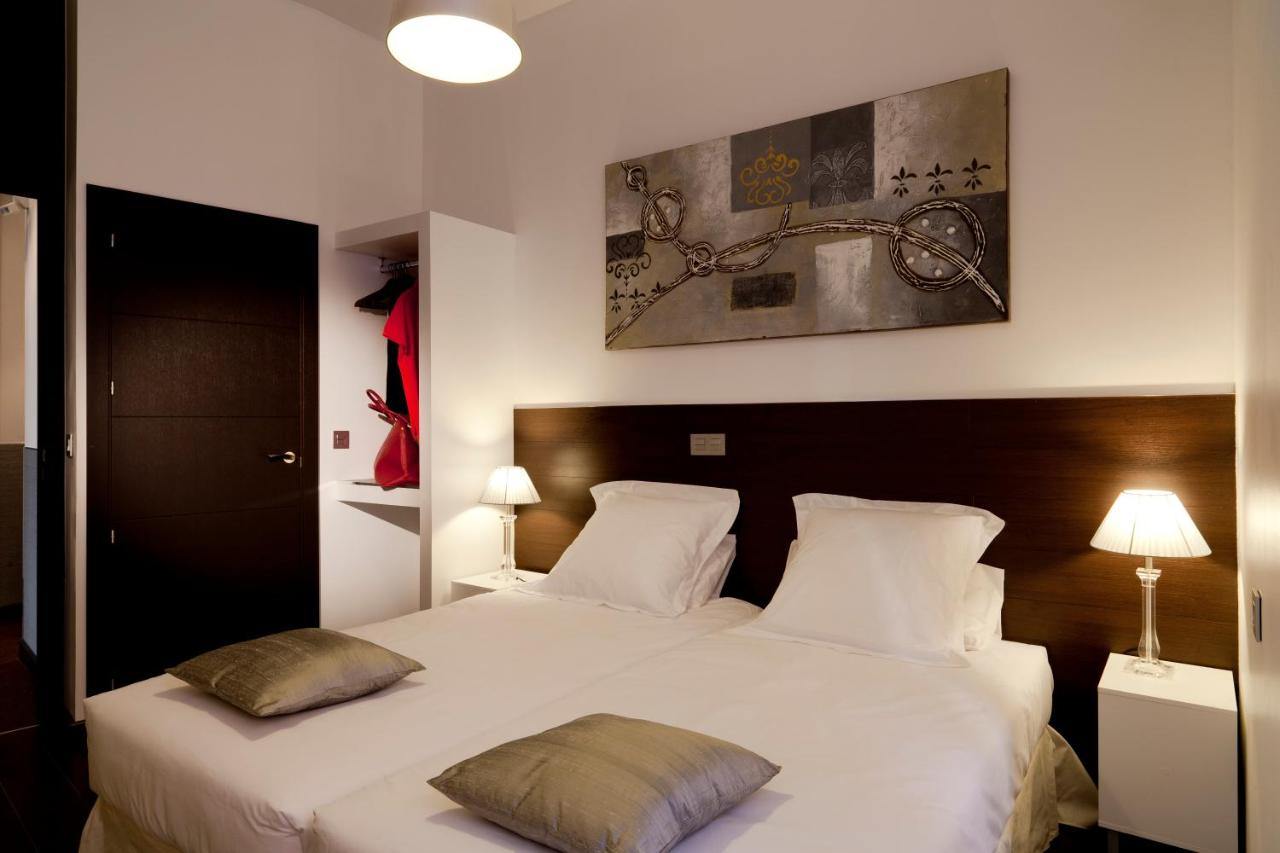 Ganivet Hotel starts at $90 a night and includes an open jacuzzi pool on the roof, modern rooms, a hot tub, and a buffet breakfast, which is not too shabby for a 3-star hotel. 
Posada del León de Oro is slightly above the $100/night mark, featuring a mix of modern and old-school rooms. The 4-star hotel seems to be a favorite of many people visiting the area, and it's within walking distance from the center.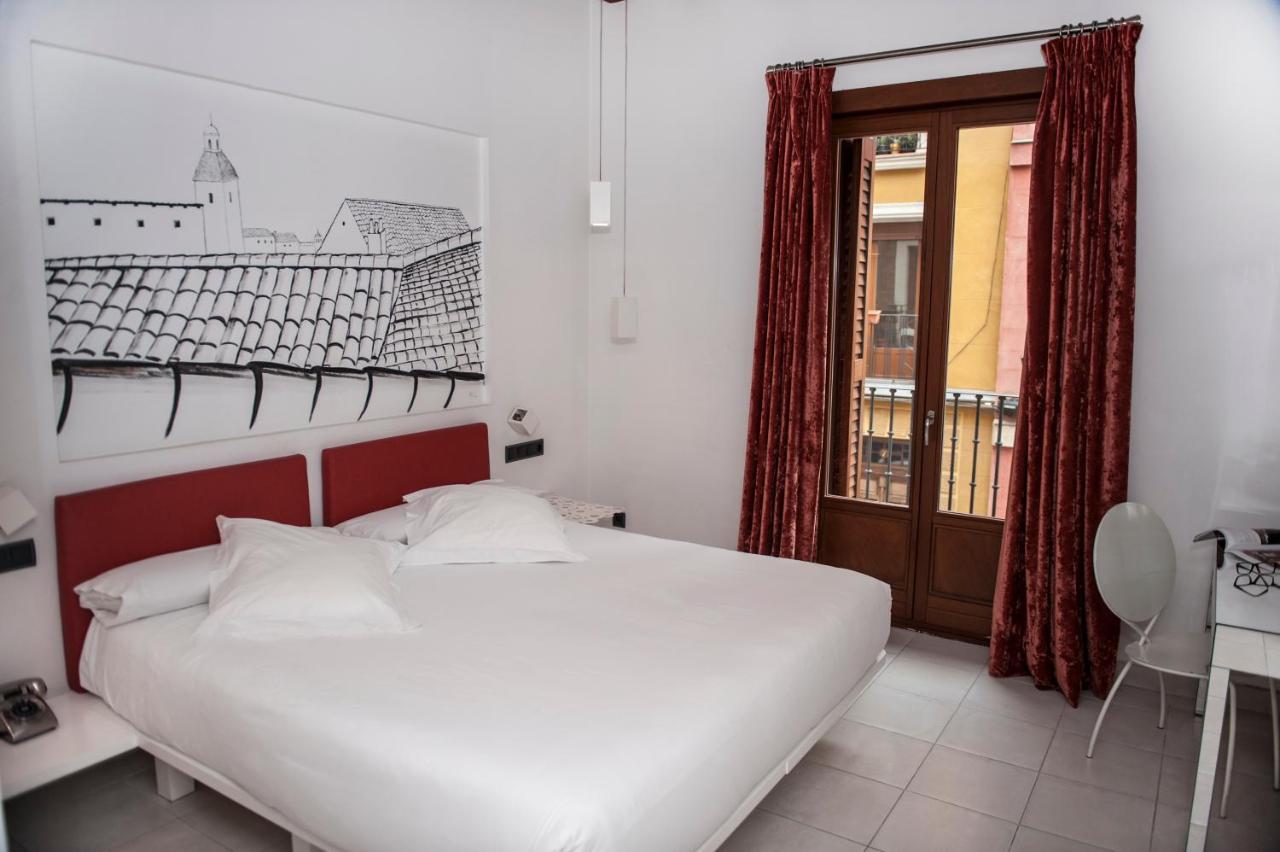 A similar one, Posada del Dragón Boutique Hotel is targeted at lovers, and they offer packages of romantic surprises, and breakfast in bed. The prices are the same, but the packages are considered "extra".
Retiro
This neighborhood is suited for the ones that prefer a quiet night. There's not much nightlife in the area, but some of the best hotels in Madrid can be found here. This neighborhood is popular for its park and the art museums scattered through it. It basically translates to "retreat" in English, because it's a more quiet area of the city. 
There are many regular apartments that rent per night, which families and groups prefer a lot of the time, and even though there are hotels starting at $70/ night, such as Ayre Gran Hotel Colón, most of them are over $100, some going up way above that.
Agumar is another hotel starting at $70 which is quite popular with couples.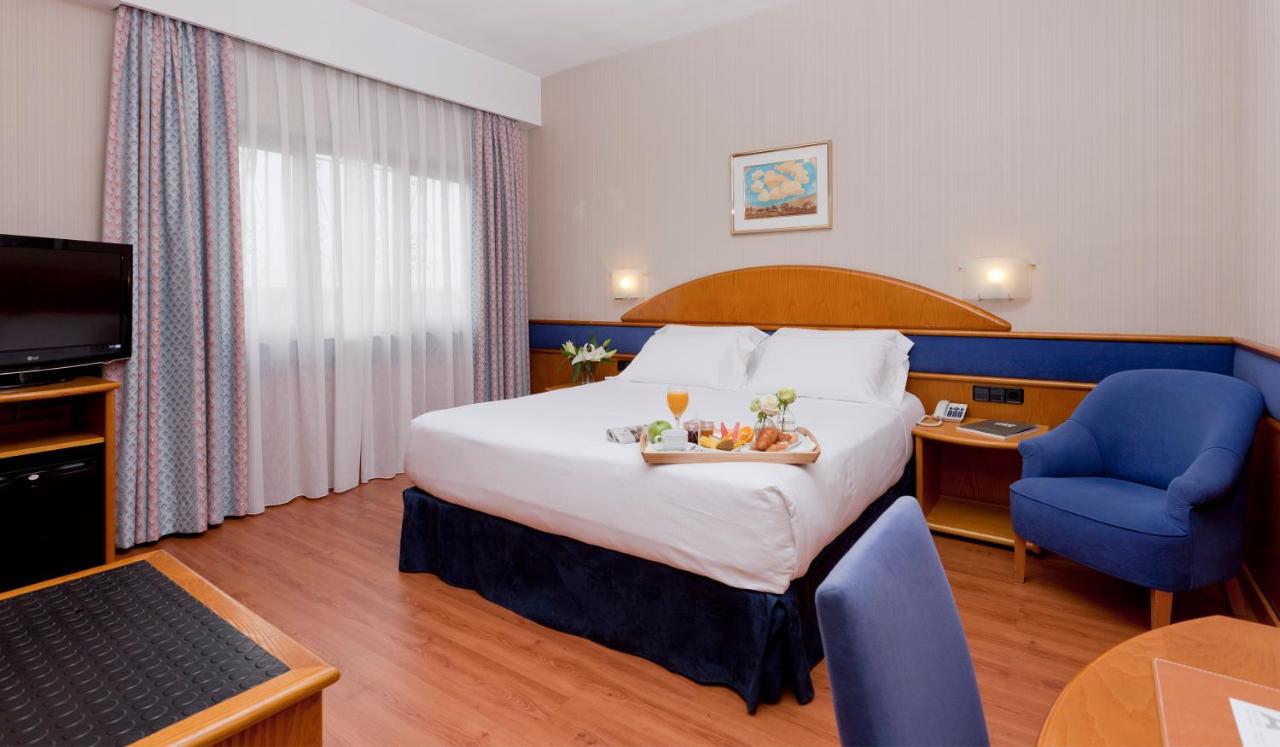 Claridge is a more affordable $-star hotel, with prices starting at $80. It offers a gym for the members, bike rentals, and it's conveniently situated close to the park.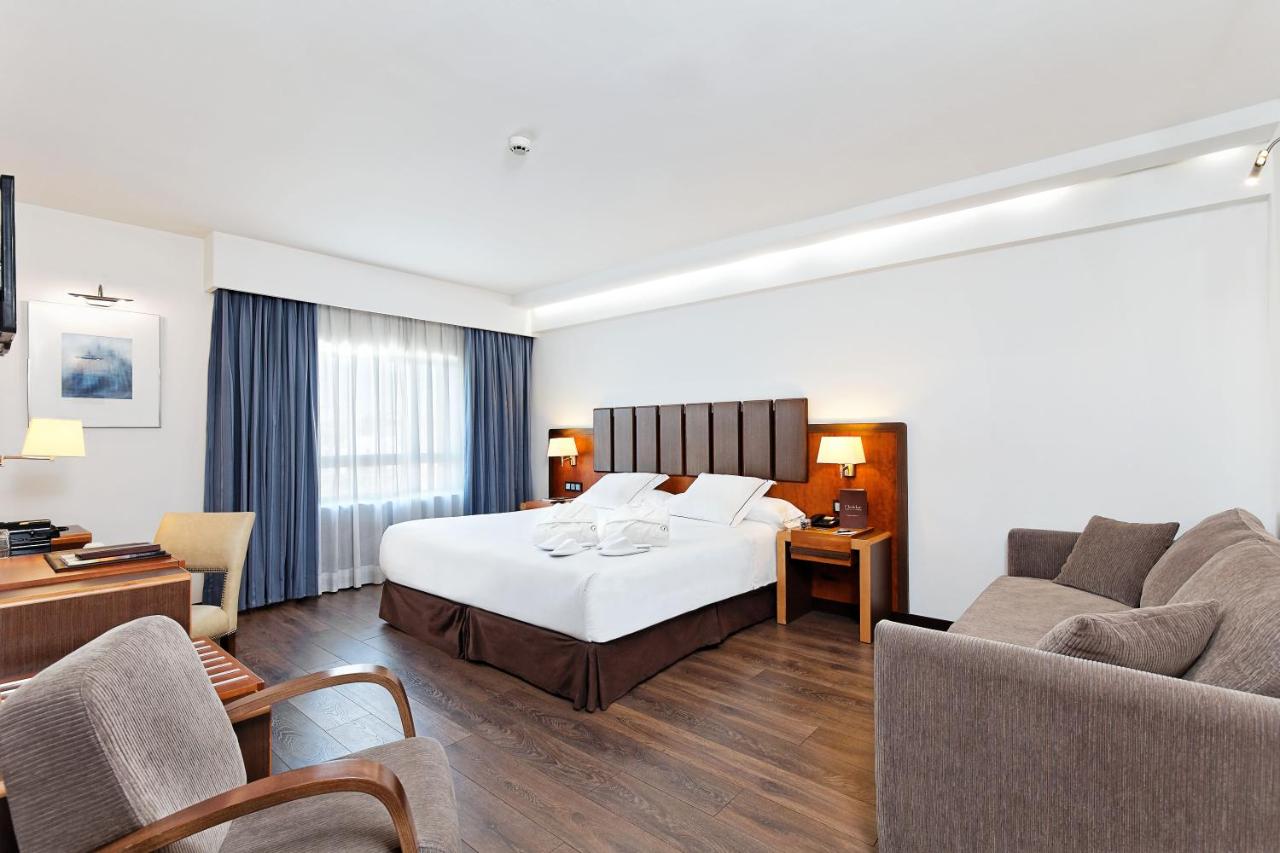 Only YOU Hotel Atocha has rooms starting at $110, and it's a breath of fresh air with its modern and cozy design, despite being located in a 19th-century building. The included breakfast can be served at the top of the building, with a beautiful panorama of the city. They're focused on ecology and that can be seen from the moment you walk in. 
Petit Palace Savoy Alfonso XII and Petit Palace Lealtad Plaza are both 4-star hotels with prices starting at $140, in beautiful buildings with an antique feel.
One of the most famous and luxurious hotels in Retiro neighborhood is Hotel Palacio del Retiro is located in a stunning building that is protected by the National heritage. The rooms start at $240/ night and offer a gym, sauna, and massage services, and a full-service spa. Sadly, there's no pool and the rooms are decorated in a modern fashion, contrasting with the exterior of the building. 
The epitome of luxury is offered by Mandarin Oriental Ritz, where you can stay for $900. The palace is located in the Golden Triangle of Art. This hotel is a favorite of actual royalty and celebrities and has seen countless of them during its over one century in business. Every room is designed to look like you're stepping through a time gate. 
Salamanca
This neighborhood is one of the most famous ones in Madrid, popular for shopping, good restaurants, and expensive hotels. It has a largely residential area, so it's mostly quiet at night.
The "Golden Mile" is a street with designer stores all around, and it's also the location of the Archeological Museum, perfect for those who love history, especially since the neighborhood kept its old 19th century feel.
Its proximity to the center is a plus for any tourist. Here's a list with accommodations under $100. 
Many of these hotels under $100 are actually 4-star hotels with amenities and rooms for every taste. However, the Salamanca neighborhood is considered upscale, and it has some beautiful examples of luxury accommodations that you can pick from.
Meliá Madrid Serrano is a beautiful hotel and the best part about it is the private terrace on the 7th floor featuring a large rooftop pool. The prices for a room start at $130.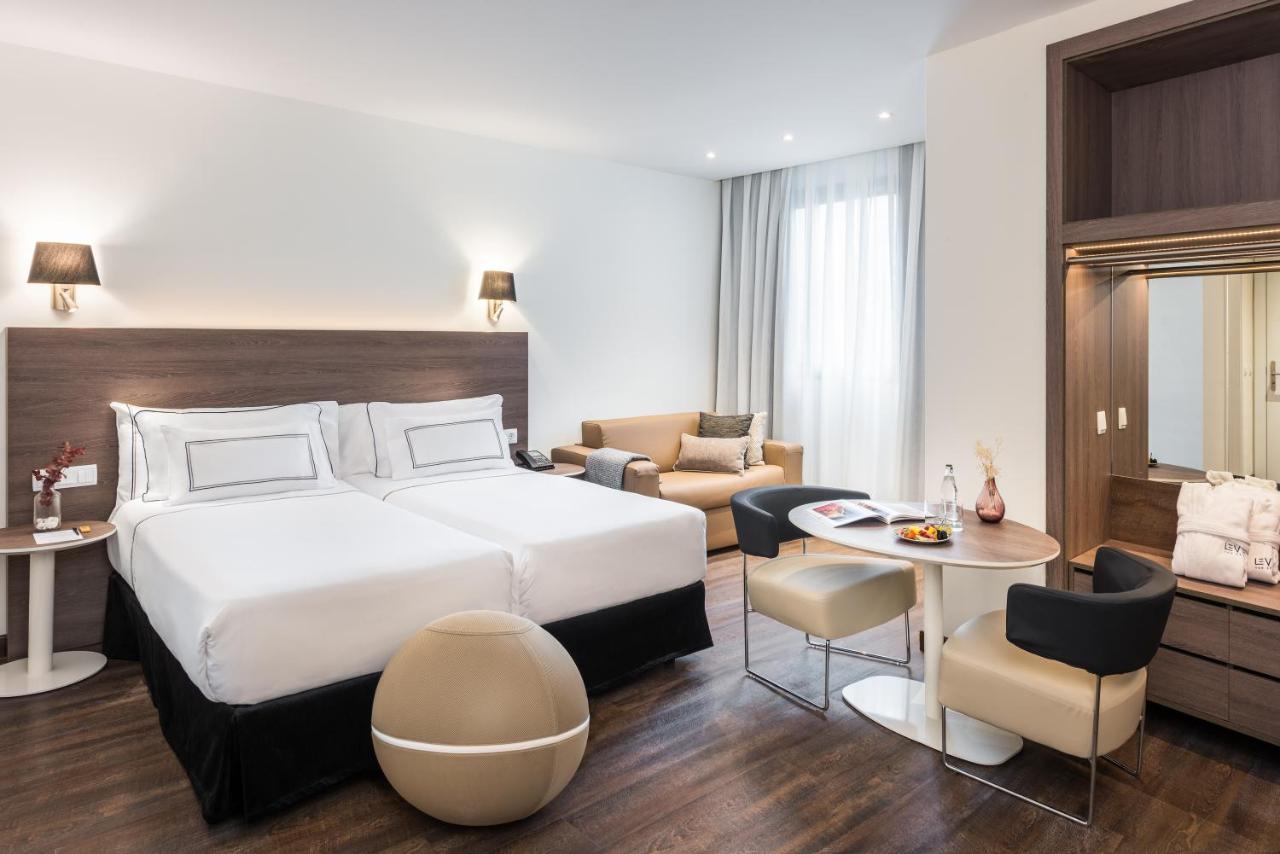 ICON Embassy is another luxurious hotel with a unique design. Here every guest gets an iPad upon request to use during their stay, but what makes the hotel special is the modern design enclosed in the 19th-century building, a design with lots of natural elements. 
NH Collection Madrid Colón is a luxurious 4-star hotel in Plaza Colón, in proximity to the shopping street. It has a beautiful rooftop pool with a terrace, elegant modern rooms, and a sushi bar for everyone who loves Asian cuisine. Rooms start at $150.
One of the most beautiful hotels in the Salamanca neighborhood is Hospes Puerta de Alcalá, a 5-star hotel with rooms starting at $237. A unique feature of this establishment is the Turkish bath. Aside from that, it offers a small pool, a gym, a spa area as well as a large terrace with a panorama, and soundproof rooms. The building dates from 1883.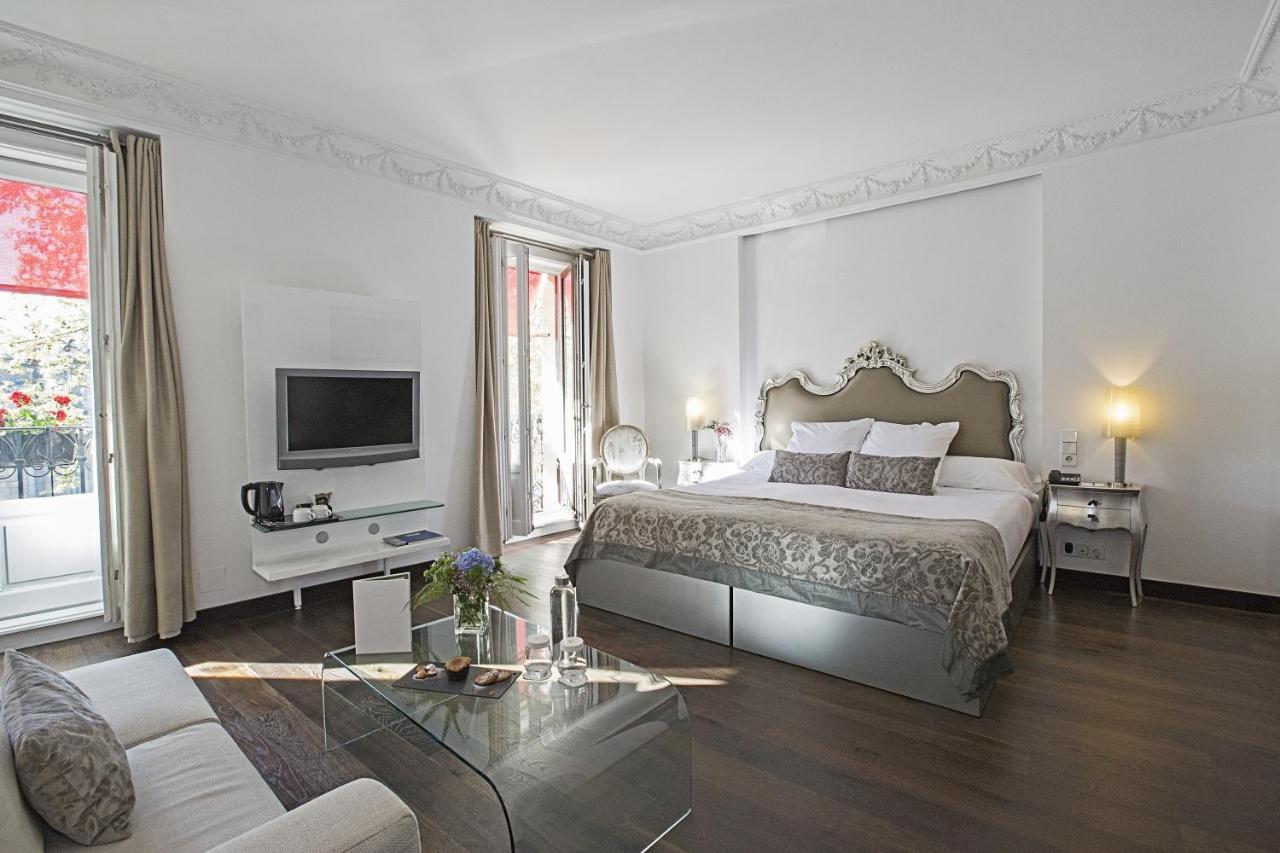 Lavapiés
This is a more edgy part of town, known for its multicultural populations. It's especially great if you want to try food from all over the world. The nightlife here is at its peak, with various bars, clubs, taverns, and outdoor terraces you can enjoy. This neighborhood hosts many cultural events. If you decided to find accommodations in this area you'll be amazed by the medieval streets, antique stores, and unique boutiques.
Lavapiés is, without a doubt, the hipster part of town, with some of the more interesting and affordable accommodations.
Here are some hotels with prices between $50 and $60 for low budget tourists:
There are more upscale hotels as well, but fewer than in other areas.
Hotel Catalonia Atocha has rooms starting at $80 a night but at this price, you get to enjoy a rooftop pool and a terrace that come complimentary to the modern furnished rooms.  
Hotel Paseo del Arte is a 4-star hotel with rooms starting at $85/ night, in an excellent location close to the center and to the National Museum of Art. It doesn't have many extra amenities but the design focuses on offering lots of natural light to the guests. Their rooms have large windows and some of their common rooms have a glass ceiling so guests can enjoy plenty of sunlight even indoors.
Hard Rock Hotel has a garden and a terrace as well as a beautiful swimming pool. The modern building is easily recognizable in the city and offers rooms starting at $128/ night. Fans of the Hard Rock chain will enjoy the modern design of the rooms.
Malasaña
One of the best neighborhoods for young adults, Malasaña offers a rich nightlife, clubs, cocktail bars, live music, and all sorts of boutiques for every taste. It's the headquarters of students and young people in the city, a very popular hangout spot with every type of music, from rock to house, despite preserving much of its 18th-century architecture. If you want to have fun non-stop during your urban escape and never be too far away from the heart of the party, Malasaña has plenty of accommodations options to choose from.
Here are some of them for under $100 if you want to keep your money for fun:
If you don't want to trade luxury for fun, there are some upscale hotels around in this neighborhood, but not as many as in the other areas.
Hotel Abalu – Design & boutique is one of the more trendy hotels around with rooms starting at $125. The interior design is sure to impress even the pickiest guests.
Petit Palace Triball might be a 3-star hotel with prices starting at $130 but the guests get to enjoy showers with hydromassage and large terraces with a panoramic view over the city.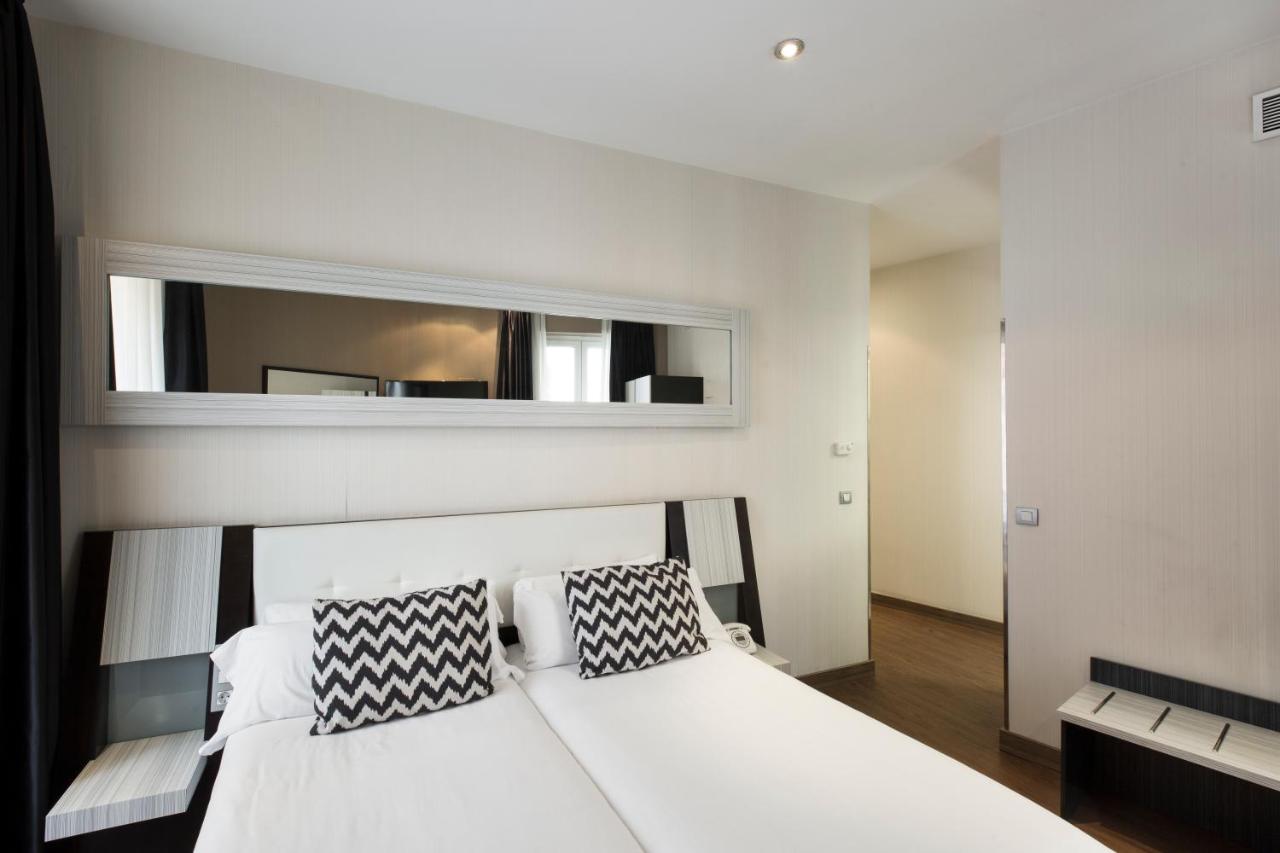 If you want to enjoy an indoor pool then Radisson Blu Hotel is your place to go in this area. The rooms that start at $140 are beautiful and bright.
Overall Madrid has a collection of hundreds of hotels, hostels, and private tourist apartments one can choose from, with every type of amenities you can think of. Of course, there are many more neighborhoods, 21 in total, I consider these to be the best ones to stay in due to their proximity to the center and safety.