Table of Contents
If you want to get a vibe of the Caribbean Islands and the amazing sea around them, Caye Caulker is one of the best places to go to. This is a small but beautiful island on the coast of Belize which is also a small country with a population of only 419,199 people.
Caye Caulker is about five miles long and a little less than one mile wide and it has a small town of 2000 people called Caye Caulker village. You will find Belize city only 20 miles away from the island, so you can visit that too since you are in the area. In spite of the small size of this island, you will not get bored easily. As a matter of fact, you might find it even difficult to leave this place once you discover its paradisiac beauties!
But without further due, let's take a deeper look into all the aspects you need to know if you are planning a trip to Caye Caulker island! 
Where to stay in Caye Caulker
One of the most important things to consider when you are planning your trip is accommodation. Luckily, you will have where to choose from when you look for the best place to stay on this island. Even if it is small, there are over 50 hostels and hotels to choose from when you get to the Caye Caulker Village.
If you visit this place during the hot season, you will find that prices are a bit higher than those in Belize. Even so, you can still find accommodation at different costs and there is a room available for every budget. The best thing to do when you are looking for a place to stay in Caye Caulker is to book your accommodation ahead of time, especially if you are planning to visit in the high season.
I chose three accommodation options for you according to different types of budgets. You will be able to find others that are cheaper such as different hostels as well as more fancier hotels that you can stay at. But it all depends on your preferences and financial possibilities because this island has something for everyone who is interested in spending some time here!
The Jungle Cocoon will offer you accommodation for two people for around $100 a night. If you want to order breakfast you can do so but the rooms don't come with breakfast included.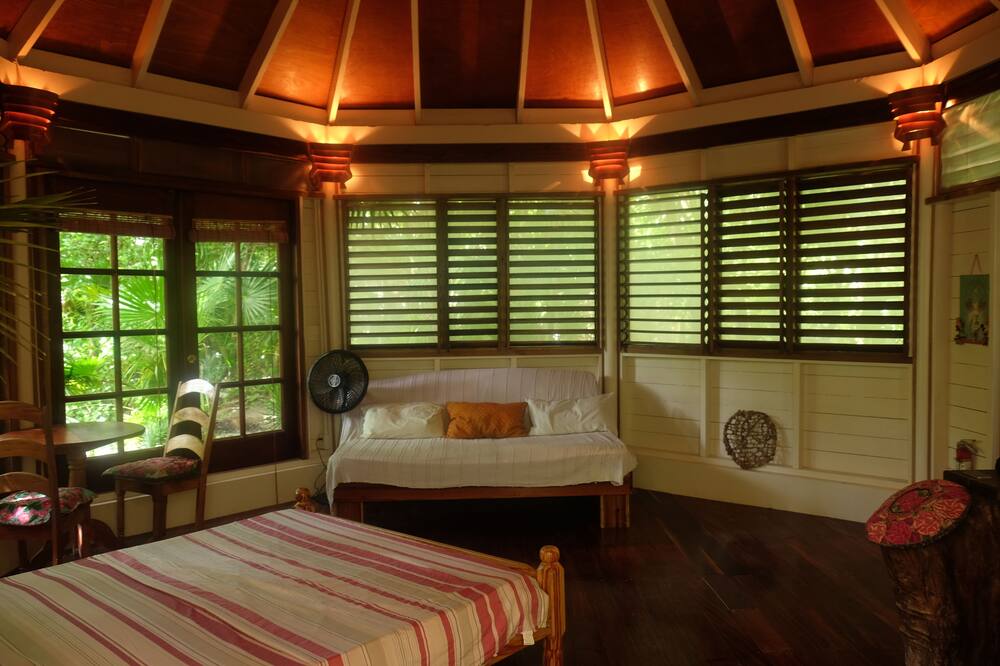 One of the pricier locations to stay at is Weezie's Cottages with a price of $140 per night for two people. At this type of accommodation, you will find pools as well as a restaurant available for guests.
Transportation means
As we mentioned, Caye Caulker is a small island so you can simply walk around to get to different places here that you want to check out during your trip.
Besides walking around, you will be able to ride bikes, and renting a bike is one of the cheapest ways to get around the island. Renting a bike for a day will cost you about $8 or 15 BZD and renting one for a week is about $32 or 50 BZD. You can find bikes for rent at most hostels as well so ask your host if they offer such a service.
Golf carts are very popular in Caye Caulker and you might love to try this transportation mean at least once. But keep in mind that golf carts are not cheap to rent. You can get a golf cart for $13 per hour, $81 per day, or $320 per week.
You will also find two water taxis and they can take you to the mainland for $18-$20 per round trip.
Safety matters
Your safety should also be one of your primary concerns as you are traveling. The good news is that Caye Caulker is a peaceful place where crime doesn't happen often. The violence is reduced to a minimum and, for a long time there's none of it but theft might happen.
It is important to lock your hotel room every time you leave and keep your key secured so no one can steal it. There were several reports involving ransacking of hotel rooms. But this is a risk that you encounter regardless of your traveling destination so, locking your hotel room should be the norm everywhere you go.
It is worth it to get travel insurance every time you take a trip and Caye Caulker is no exception. Your travel insurance will cover theft, illness as well as other injuries and cancellations. And since you want to be on the safe side, make a copy of all your important documents so you don't panic if you lose them or someone steals them from you.
Other than these risks that you will find in most places you decide to visit anyway, you will be glad to find out that people on this island are very friendly and welcoming. Take all the safety measures that you would take at home and you should be safe from all the potential risks. 
Best time to visit
If you are looking for an ideal winter destination, Caye Caulker is just that. The high season in Caye Caulker starts in November and ends in April. Between November and April is the dry season in Belize and when the island is most crowded. The temperature here is around 77 degrees F, 25 degrees C all year round. The lowest temperatures take place in January and February when they can get to 68 degrees F, 20 degrees C.
Plus, from November to April, the waters are great for diving enthusiasts who would like to enjoy such an experience. Note that September and October are rainy months so, you might not want to plan your trip during this time.
However, the bottom line is that you will not go wrong with visiting this island any time of the year. It is a beautiful place and, if some rain doesn't bother you, it is an ideal destination for your vacation.
Top things to do in Caye Caulker
Caye Caulker is a place to relax as life here goes at a pretty slow pace. So, you will most likely love to enjoy your time here by simply chilling on the beach or taking nice, long walks through the island. But there are other things that you can do on Caye Caulker and, here are some ideas to fill your time with impressive experiences. 
Yoga
Yoga seems to be one of the activities that go best with the chilling vibe of this island. You can join a yoga class or simply do it by yourself while you spend some time on the beach. A great aspect about yoga in Caye Caulker is that you can find plenty of free yoga classes and they function on donations. Most yoga classes are taking place daily, in the morning, except Sundays.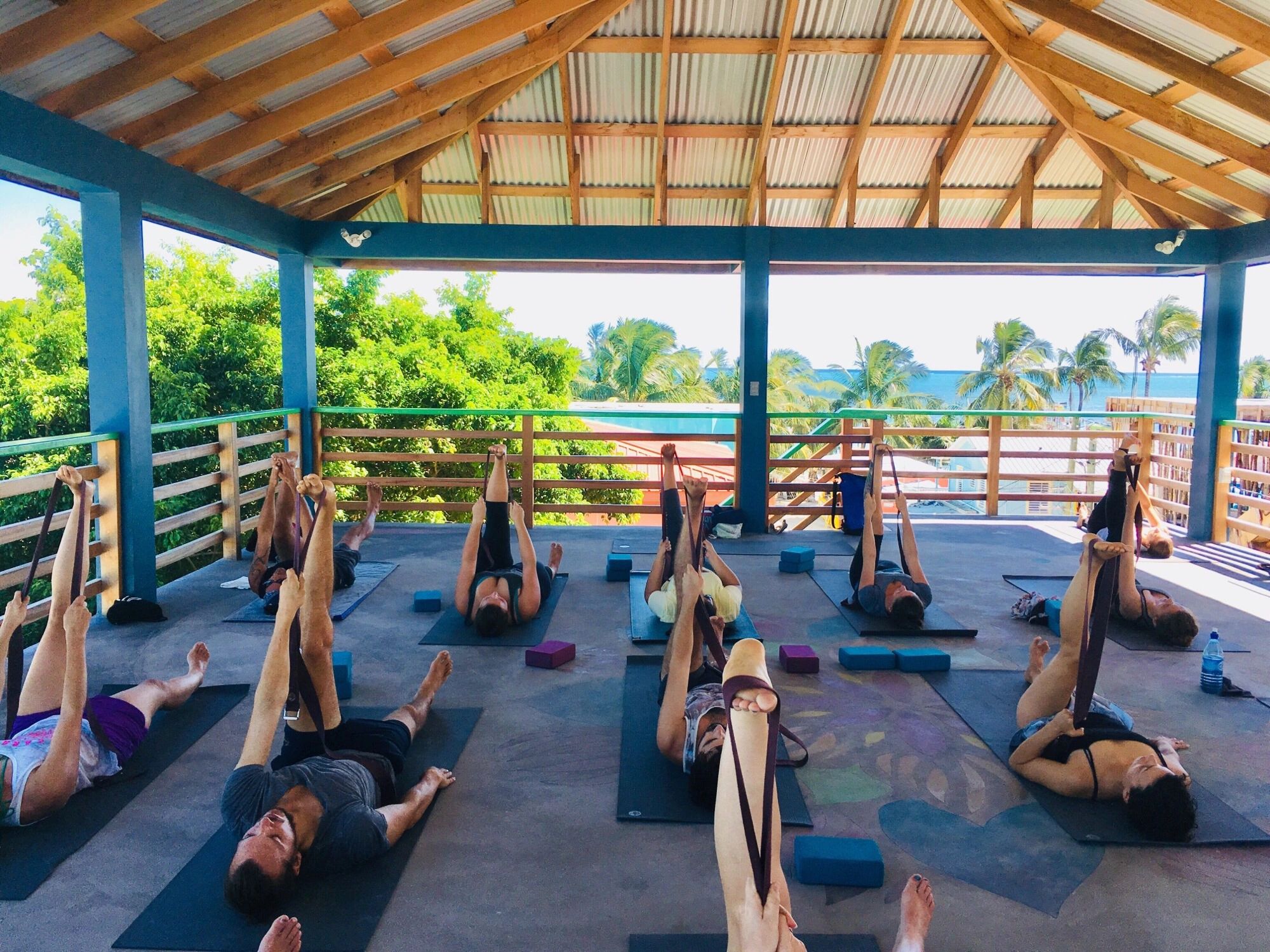 Fly over the Great blue hole
The Great blue hole is one of the wonders of this place. This sinkhole is even visible from space and you can try to dive into its 400 feet depth but the main attraction is to fly over it as the view is breathtaking.
You can find small airplanes that will give you a tour of this Great blue hole from above for about $200 and these flights take place daily. However, if you want to be sure you get to enjoy this experience, you should book your flight a few days in advance since it is one of the most popular attractions here.
Try out diving and snorkeling
Diving, as well as snorkeling, are two major water sports here and if you want to have such an experience, Caye Caulker offers you the opportunity. You will witness great schools with even thousands of fish, beautiful corals, and different fish species such as stingrays or eagle rays.
You can enjoy both snorkeling and diving here if you are a beginner as well as if you are an expert and you will gather memories to cherish for a lifetime. You can even take some diving or snorkeling classes if you want to experience this time of activity while you are in Caye Caulker.
Go on a sailing trip
Going on a sailing trip might break the monotony of the chilling life in Caye Caulker island! During such a trip, you will be able to sleep on nearby islands that are not inhabited and you will enjoy a great sailing experience with the crew on the boat. The tradition here calls for drinking rum punch in the evening while enjoying a dinner of freshly caught fish.
If you don't have three days to spend on a sailing trip you can simply get a sunset trip which can be very romantic and pleasant as well.
What to pack
When it comes to what you should pack for such a trip, you want to keep it simple. Caye Caulker is not the place to get fancy unless you want to. Think of comfortable outfits that you can relax in.
As a general rule, you want to pack spring-summer clothes. Get a pair of jeans and some t-shirts as well as your most comfortable shoes. Bathing suits and flip-flops should also find their place in your luggage and you can get a more elegant outfit if you are planning a special event here.
Don't forget to bring with you a small medical kit because you never know when you need one. Add to it band-aids, an antibacterial cream, Tylenol, hand sanitizer, and some earplugs, even if you might not need them considering how peaceful the island is.
Average budget
When it comes to your budget per trip, this will vary according to how long you stay as well as where you are staying and how much you want to splurge in Caye Caulker. The truth is that this island has something for everyone, so you can go for a vacation on a tight budget or a more luxurious experience.
Besides accommodation costs that can range from $14 a night in a dorm with eight to 16 beds in a hostel and $140 a night for a double room in a resort, you will need food and transportation.
Food is fairly cheap and you might spend the same amount of money on it if you decide to cook at home or even more since the main ingredients are all imported, except fish. However, you can find affordable deals on local dishes such as Fran's BBQ that costs about $5.00 per portion or, you can enjoy a serving of Fry Jacks for $1.50.
If you want to enjoy breakfast at a local coffee shop you can do that for about $4, while a regular meal at a restaurant can cost about $8 to $10. Of course, if you resume eating street food you can reduce your food costs significantly. On average, you can expect to spend between $50 and $80 on food per week for one person.
Final thoughts
Caye Caulker could be an ideal place for your honeymoon too if you want to enjoy each other's company and some relaxing time at the beach. On this island, you can see beautiful sunsets and the food is delicious, especially if you like to fish. People are very friendly and they will make you fall in love with this place in no time. If you are looking for a place to get away from the hectic schedule you might have in your urban, daily life, the Caye Caulker island is definitely one of the most attractive destinations to check out on your next trip.