Table of Contents
The Republic of Colombia manages to gather every beautiful aspect of South American life. Even though the architectural wonders, the culture, and the inviting beaches are hot spots for tourists, Colombia's rich nature escapes are no small thing to experience. Its 59 national parks are part of the National System of Protected Areas and each of them deserves the spotlight, but today I'll focus on the top 5 national parks in Colombia that you must see for yourself. 
1. Cahuinarí National Park
Located in the Amazon region of Colombia, in Puerto Santander, this nature reserve offers protection to countless species of animals and plants, as well as to some indigenous communities such as Andoque, Miraña, Nonyuna-Muinane, Bora, and Huitoto. It's worth mentioning that some communities in the area have disappeared due to rubber exploitation. Choose a guide that knows or is part of one of these communities in order to learn all you can about this magical place.
Among the many species of animals, here you can spot jaguars, armadillos, anteaters, panthers, giant constrictor snakes, many species of primates and birds, and Charapa turtles, which is one of the biggest species of turtles. 
Cahuinari National Park has many natural wonders that you can enjoy, including the Bernardo and Caqueta rivers. The second river is home to one of the treasures of Colombia, the pre-Hispanic petroglyphs that are only visible in February. The best thing is that you can visit the local communities and learn about their life and customs.
2. Tayrona Colombia National Park
Located in the Caribbean region of Colombia, Tayrona National Park is home to the 4 indigenous communities of Sierra Nevada de Santa Marta. It's the perfect destination if you want to sunbathe on the beautiful natural beach and if you want to stay for more than a day you can choose to set a tent on Cabo San Juan beach and hop to a different campsite the next evening. 
Hikers will enjoy the El Pueblito hike that goes through an archeological site of a village that is 5 centuries old. Other paths you can choose are Canaveral Trail, Arrecifes Trail, or Tayrona National Park Trail where you'll have the chance to spot wildlife.
The park protects hundreds of species of animals, such as primates, reptiles, birds, and the coral reef is a marine reservation itself that is home to hundreds of other species. The ecosystems are diverse and some are delicate, so keep that in mind while visiting and strive to leave the park better than when you found it.
3. Cueva de los Guacharos National Park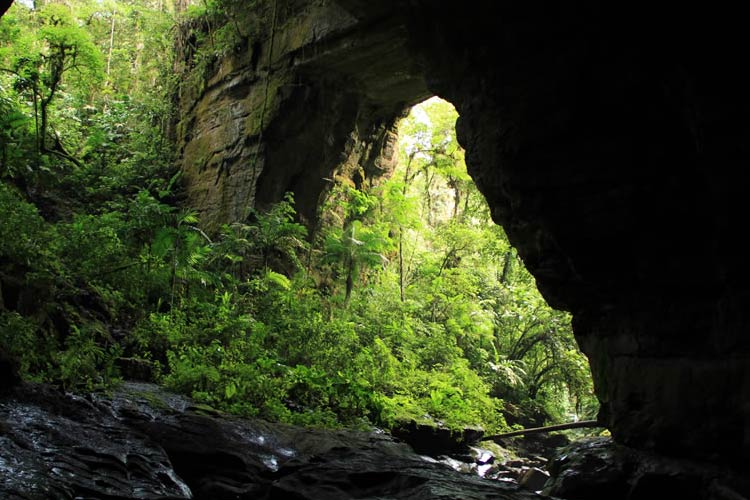 Located in the Ardean Belt of Colombia, Cueva de los Guacharos is the oldest national park in the country, declared a UNESCO Biosphere Reserve. Its name comes from the guarachos, a species of nocturnal birds that inhabit the caves in the area. This park is one of the best places for ecotourism, with strict rules being set in place for everyone who wants to visit it. 
Experienced hikers will find the trails quite challenging, and they must bring a guide, but the sites will be worth it. Tourists can camp in tents with the condition to not build any fires and not disturb the wildlife with music or loud sounds. During your hike, you might spot different species of primates, bears, or even pumas. 
One of the best caves to visit in the park is the Indian Cave, where you can admire fossils embedded in its walls and calcite formations. If you take a tour inside the Cave of the Guácharos you'll be able to see the nocturnal birds in their natural habitat.
4. Serranía de la Macarena National Forrest
Uniquely placed at the intersection between Orinco, Andes and the Amazon, La Macarena National Park offers a diverse range of activities for full days of adventures. It's known for it's Crystal Channel, also known as the Rainbow River. Its beautiful colors in hues of red, yellow and blue are given by a type of aquatic plants growing on the rocks.
The varied geography made the creation of many ecosystems possible. 500 species of birds, 100 species of reptiles and many mammals, including jaguars, primates, and deer live here. You can spot them while hiking, and even though the park is quite difficult to visit, because the locals focus on conservation, not on tourism, you'll find it very rewarding once you come across streams, waterfalls, ponds, or petroglyphs from ancient cultures.
5. Sierra Nevada del Cocuy National Park
Located in the Colombian Andes mountains, it holds the biggest South American glacial mass. Here you can see 18 mountain peaks, waterfalls and glacial lakes. The park is inhabited by an indigenous community, the U'wa. It's considered to be one of the best hiking places in Colombia, definitely for experienced hikers and for the ones with a spirit for adventure. 
If you dare to embark on a tour, you'll marvel at the unspoiled nature around you, as there are not many tourists. The fauna here includes bears, deer and Andean condors. I advise you to get a guide and plan ahead. 
One thing to keep in mind before visiting Colombia's national parks is that you must get vaccinated against the yellow fever two weeks in advance.