Acadia National Park is one of the main attractions in Maine's Mount Desert Island, United States. This park is a recreation area that spreads on a surface of 47,000 acres of beautiful landscapes.
Here you will find everything from woodland to rocky beaches and glacier granite peaks.
If you want to enjoy the Acadia National Park in all its beauty, with no weather restrictions, the best time to visit is from spring to fall. 
However, rain and fog can happen suddenly on Maine's Mount Desert Island, and you have to know what to do in Acadia if you catch one of those rainy days!
Things to Do in Acadia National Park When it Rains
1. Seal Harbor Library
Rainy days are perfect for reading, and in Acadia, you will find several cozy libraries you can enjoy. The Seal Harbor library is built right on the hill above the Seal Harbor bitch.
You will find not only interesting books here but also comfortable chairs and a quiet, relaxing atmosphere to enjoy your rainy morning.
The books in this library cover all domains and the building was renovated to block outdoor noise so reading time can be even more enjoyable. 
You can find the Seal Harbor Library on 5 Main Street Seal Harbor, Maine 04675, and it is open from Monday to Saturday during the Summer season.
The hours are from 9.00 to 12.00 pm, except Thursdays when the institution is open from 3.30 pm until 6.00 pm. 
2. Jesup Memorial Library
Another place to enjoy some good books that are open for longer hours is the Jesup Memorial Library. This library is the main one in Bar Harbor, and it includes over 38,000 books from which 7,000 are borrowed.
You can also find movies on DVD and VHS as well as audiobooks here, and you will not have to look anywhere else for entertainment. The Jesup Library also hosts concerts, book signings, and different cultural events throughout the year. 
The library is at 34 Mount Desert Street Bar Harbor, Maine 04609, and it is open Tuesday through Saturday from 10.00 am until 5.00 pm. On Wednesdays and Thursdays, you can find it open until 8.00 pm. 
3. Southwest Harbor Public Library
Last but not least, the library you will love to check out during a rainy day but not only in the Southwest Harbor Public Library. The library was built in 1895, and it has an impressive architecture. Inside this institution, you will find plenty of books to choose from as well as computers that you can use.
There is free internet access inside the building so you can entertain yourself the best way with minimum expenses. 
You can find this library at 338 Main Street Southwest Harbor Maine 04679 and is open Monday, Tuesday, Thursday, and Friday from 9.00 am until 5.00 pm, Wednesday from 9.00 am until 8.00 pm, and Saturday from 9.00 until 1.00 pm. 
4. Isleford Historical Museum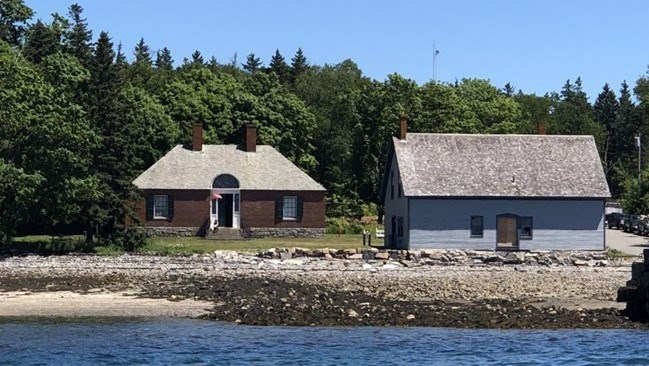 If you prefer to get a glimpse into the history of the area, checking out the Isleford Historical Museum is one of the best things to do.
Do you want to find out more about the tools used for fishing as well as the utensils people were using in the past in this area? Then you came to the right place. The museum celebrates the history of the Cranberry Isles starting in 1927. 
Find the Isleford Historical Museum at Main Street Islesford, Maine 04646. The opening hours vary, but the museum is generally open from June to September. Entrance is free, but the institution appreciates all donations. 
5. The Abbe Museum
You will also be able to spend a rainy day at the Abbe Museum. This museum was founded by Dr. Robert Abbe in 1920 with an impressive collection of artifacts that originated in the Frenchman Bay area.
Nowadays, the museum is a great host for archaeological values, and it supports research in this domain as well. Even more, than that, the museum developed over the years until it became the only Smithsonian Affiliate museum in Maine in 2013.
The museum is located at 26 Mt Desert Street Bar Harbor, ME 04609 and you can find it open from May 1st until October 31st from 10.00 am until 5.00 pm.
As for winter hours, the Abbe Museum is open from November 2nd until April 28th, from 10.00 am until 4.00 pm on Thursdays, Fridays, and Saturdays. 
6. Great Harbor Maritime Museum
The Great Harbor Maritime Museum is one of the most impressive locations you can visit when the weather is not ideal for outdoor activities. This is an ideal place for boat enthusiasts as well as those who want to find out more about marine life and equipment.
The museum is hosting different marine events as well, and they list them all on their website. Some of the events are free and a great experience to have while you are in the area. 
The museum is located at 124 Main Street Northeast Harbor, Maine 04662, and it is open Tuesday to Saturday from 10.00 am to 5.00 pm. Sunday and Monday the Great Harbor Maritime Museum is closed. 
7. Bar Harbor Historical Society
The Bar Harbor Historical Society is included in the National Register of Historic Places and is one of the best places to visit. This started as a small exhibition to celebrate the memory of George B. Dorr, who put the foundation of Acadia National Park and died in 1944.
The exhibition included old photographs from the town and pictures of important figures. It was so popular that it became permanent, and it developed to be the impressive historical spot that it is today. 
You can find this Bar Harbor Historical Society at 33 Ledgelawn Avenue Bar Harbor, Maine 04609. It is open from June to October, Monday to Friday, between 1.00 pm and 4.00 pm. 
8. Sound Schoolhouse
Sound Schoolhouse is operated by the Mount Desert Island Historical Society. The School was opened in 1892, and it functioned as a school for 34 years until 1926.
Between 1926 and 1999 it was a community center where people went dancing and different local events.
In 1999, the Mount Desert Island Historical Society restored the place and added a new wing where The Ralph W. Stanley Library can be found along with a collection of historical objects.
This school is a great glimpse into the way education was done decades ago, and it can be an impressive experience for all types of guests. 
The Sound School is located at 373 Sound Drive Mount Desert, Maine 04660, and it is open Monday to Friday between 10.00 am and 4.00 pm. 
9. Somesville Historical Museum
The Somesville Historical Museum was built in 1981 and its popularity grew ever since. Every summer, there are new pieces added to the museum's collection, representative of the local history. Here you will find an interesting museum but also a very attractive garden.
The flowers and plants here serve educational purposes as well since they are species from the 19th and 20th centuries that are specific to Mount Desert Island. But if you want to enjoy their beauty, visit this garden between May and October so you can enjoy the blooming season. 
You can visit the Somesville Historical Museum and Garden at 2 Oak Hill Road Mount Desert, Maine 04660. Opening hours are daily from 10.00 am to 4.00 pm.
10. Try local restaurants
If you are looking for a dry and cozy place, Acadia National Park has some great restaurants to try out. Lobster is one of the best dishes you can have in the area, and the most famous restaurant is Thurston's, Lobster Pound.
Everyone appreciates their lobster rolls, and they offer delicious food at affordable prices. The only downside of this place is that there is always a line so get ready to wait for your tasty meal. 
As long as you find a great place, your time at Acadia National Park can still be amazing even if you catch a rainy day. Such a day could be a great opportunity to find out more about the area and enjoy some quality time with tasty food and catch up with your friends.