Richardson is a city found along the border of both Collins and Dallas County. With a population of 119,469 according to the 2020 census, this relatively small city is home to the University of Texas at Dallas and major telecommunication companies, including Verizon, Samsung, and AT&T. 
Being home to many major telecommunication companies is a clear indication of the type of city Richardson must be. These companies must see something within these city limits to make it a hot commodity, and tourists who come through see it.
This city does not have a lack of attractions or things to do. It is a hotbed of different cultures ranging from Indian Americans to Chinese Americans. This city even has a Chinatown within its limits that help to show off its diversity. 
Below we will go over the best 15 things to do in Richardson, Texas, to ensure that a visit to this city is a visit that you will never forget.
Things to Do in Richardson, TX
1. Go to Cottonwood Park
One of the first things you may want to do after a long drive or plane ride is to see some nature and relax. Cottonwood Park provides both of those perks. Even on the hottest days, this park has plenty of trees to shade you as you walk through the trail, and it even has a swimming pool as another alternative to cool off. 
If you are looking to sit around and take in the sights, they provide picnic tables for you and the family to sit, talk, and enjoy the scenery.
This hidden gem will leave a lasting impression on the family and help kickstart a vacation in the right way, surrounded by beautiful flowers and fresh air, which is always good for the heart. 
2. Attend an exhibit at the University of Texas at Dallas campus
The best part of having a major university in town is the exhibits they provide for the public, and that is what you will find at the UTD visual art building.
Here you will find some of the new and fresh faces of the art world. You could witness the next Andy Warhol and claim you saw their work before being famous. 
With its wall-to-wall art pieces, sculptures, etc., there is no lack of beauty in this building, and regardless of what type of art lover you are, it provides something for everybody. You could easily get lost in this building for hours, and that's okay because you will not regret it.
Grab a bite to eat from the various vendors the campus has to offer and make your way back in to finish off the exhibit because you are going to want to see everything.
3. Visit North Texas Automotive Museum
For the people who love cars, this is one place that must be on the top of your list to visit. At this museum, you can find a little of everything. If you like classic cars or modern exotic cars, this museum has it and has enough that it will quench your car viewing desire.
They leave no expense in ensuring that everyone who walks into the building will enjoy every piece of art they encounter. They also allow for up close and personal interactions; even though touching the cars is limited, the museum leaves enough room to allow you to interact personally with each and every vehicle. 
This unique museum will leave you speechless on the way out and maybe even wish you had a time machine to 1952 to get your hands behind the wheel of one of those classic cars. 
4. Have fun at Funasia
Funasia aims to give you an insight into the different cultures in Richardson. This theater promotes and shows only Indian and South Asian movies, formerly known as Bollywood movies.
The establishment of this theatre is thanks to the relatively substantial South Asian community that calls Richardson, TX, home. The movies come along with English Subtitles so anyone can come in and enjoy the film. 
Funasia is also a host of other community events. So when you make your way over to Richardson, keep your eyes on the Funasia website to keep up with all of the latest events. 
5. Heights Family Aquatic Center
It wouldn't be a vacation if you didn't spend time at a water park. The name is the first indication that this would be the perfect place to bring the family for a bit of a day in the sun.
They have various swimming pools to accommodate any age or any swimming level. They even provide pools strictly for relaxation, with no splashing or flopping. It gives a moment to get away from the chaos and start a tan.
Aside from the pools, they also provide slides and toys to offer the experience with just a little extra spice—a perfect time to spend with the family and relax.
6. Eat some food in Chinatown
As mentioned in the intro, Richardson, TX, is home to a Chinatown due to its South Asian population. Just as with Funasia, this is another area where you can get exposed to the Asian (mainly Chinese) community and what they hold sacred. You will find plenty of shopping areas with an assortment of decorations.
Then if you are looking for Chinese cuisine, there is no better place to look as they have the main Chinese restaurants. They also have Asian supermarkets if you want to bring home some items you have learned to love.
If you're going to step out of your world or even the world you may have gotten used to in Richardson, Chinatown is the place to go. Like so many cultural areas, it can provide a little perspective on what life may be like in China if not a tiny glimpse. 
7. Stay for a show at Eisemann Center for Performing Arts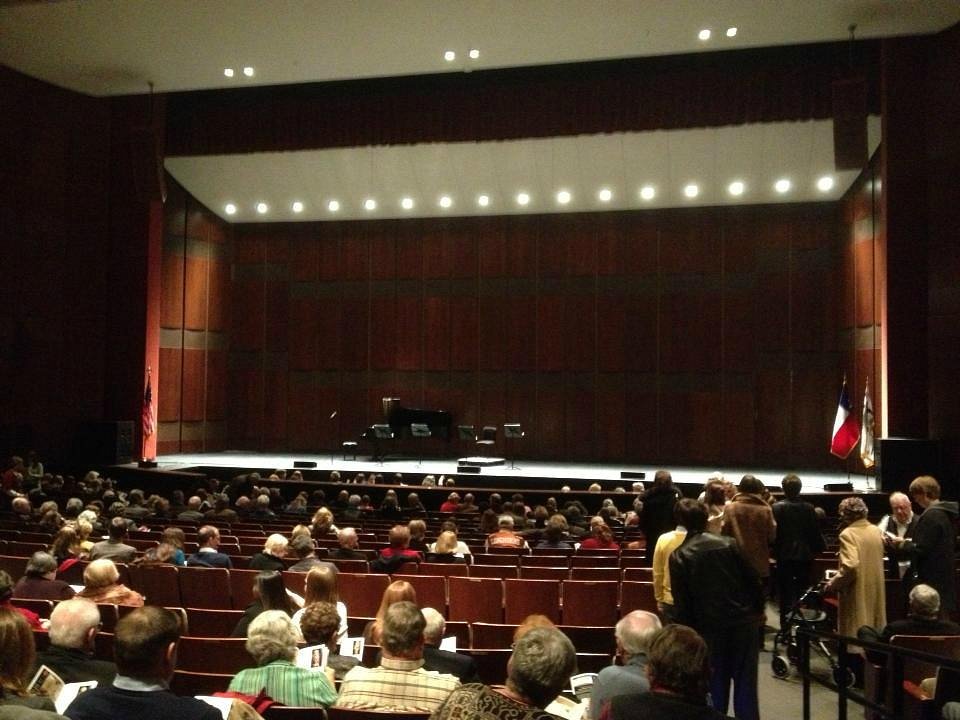 The name says it all when it comes to Eisemann Center for Performing Arts. This center provides some of the best performances found in Richardson. From small, low-budget performances to massive, fully equipped concerts, they will leave you in shock with their outstanding performances.
They have a little something for everyone from dance shows, theatrical shows, and musical performances. They can even help open your mind up to things you once thought you would never enjoy.
Changing a family member from someone who never thought they would listen to an opera to someone who can not stop listening to operas. They work hard to make sure, regardless of the size, that the performances are always top-notch, with good acoustics and excellent overall performances.
Eisemann is one of those places that either needs to be first on your list or last. But either way, it will be an adventure that will stay in your mind for years to come. 
8. Spend one day at Sherrill Park Golf Course
Golf's popularity has been steadily increasing in America through the decades. Many casual players will say the relaxation they experience from golf is incomparable, and it gets no better than Sherrill Park Golf Course.
They repeatedly have won rewards based on their well-kept facility and can be a good course for a beginner or an expert player.
They even go as far as to offer training sessions for those looking to leap up from inexperience. This beautiful course would be something an enthusiast will never forget and wish they had back in their hometown if they didn't already.
9. Attend a concert at the Curtis Culwell Center
Located approximately 10 miles from Curtis Culwell Center this is a multi-purpose arena located in Garland, Texas that hosts a variety of events, including concerts, graduations, sports competitions, and trade shows.
The type of concert that you can attend at the Curtis Culwell Center will depend on the schedule of events and the performers or bands that are booked to perform there.
10. Go ice skating at the Dr. Pepper StarCenter
The Dr. Pepper StarCenter is a premier ice skating facility located in the state of Texas, United States. The center is an ideal destination for individuals of all ages and skill levels who want to enjoy the fun and excitement of ice skating. The facility boasts of state-of-the-art amenities that make it an ideal spot for recreational and professional skaters alike.
The Dr. Pepper StarCenter is a massive facility that features four NHL-sized ice rinks, a full-service pro shop, and ample parking. The facility is equipped with the latest lighting, sound, and scoreboard systems, which make it an ideal location for ice hockey games, figure skating competitions, and other events.
11. Take a yoga class at the Richardson Heights Recreation Center
Attending a yoga class at the Richardson Heights Recreation Center is an excellent way to improve your physical and mental health. Yoga is a holistic practice that combines physical postures, breathing techniques, and meditation to promote overall well-being.
The center offers a variety of yoga classes that cater to individuals of all ages and fitness levels, making it an ideal destination for beginners and experienced practitioners alike.
12. Attend a festival or event at the Galatyn Park Urban Center
The center offers a wide range of events throughout the year, including concerts, festivals, cultural events, and community gatherings. Whether you're looking for live music, art exhibits, or family-friendly activities, there's something for everyone at Galatyn Park.
One of the most popular events held at Galatyn Park is the annual Richardson Corporate Challenge.
This event is a series of friendly competitions between local businesses and organizations, designed to promote team building, wellness, and community involvement.
13. Enjoy a picnic or play some sports at Breckinridge Park
This sprawling park covers over 400 acres and features a variety of recreational activities and natural habitats. One of the main attractions at Breckinridge Park is its extensive trail system.
The park has over five miles of paved trails and six miles of unpaved trails, winding through fields, forests, and wetlands. These trails are ideal for hiking, running, and cycling, and offer a great opportunity to explore the natural beauty of the park.
14. Learn about the history of the telecommunications industry at the Telecom Corridor
The history of the Telecom Corridor dates back to the 1950s and 1960s when the area was mostly rural and agricultural. The Texas Instruments (TI) company, which was founded in 1930 in Dallas, moved its headquarters to the Richardson area in 1956.
The company quickly became the anchor of the local technology industry and attracted other high-tech companies to the area, including GTE (later merged with Verizon), Fujitsu, and Alcatel-Lucent.
Over the years, the Telecom Corridor has continued to attract high-tech companies, start-ups, and has expanded to include neighboring cities such as Allen, McKinney, and Frisco.
The area is home to numerous Fortune 500 companies, including Texas Instruments, AT&T, Ericsson, and Raytheon, as well as a thriving start-up community.
15. Attend a literary event at the Richardson Public Library
The Richardson Public Library offers a variety of events and programs for patrons of all ages throughout the year. From storytimes and craft activities for children to book clubs and author visits for adults, there is always something happening at the library.
The library hosts a variety of cultural events throughout the year to celebrate diversity and promote cultural awareness. Some of these events are the Chinese New Year Celebration, Hispanic Heritage Month Celebration, Native American Heritage Month Celebration, and more.
Conclusion
Richardson, TX is a rich, vibrant city that balances the wealthy world the telecommunication companies have brought with a small town, down-to-earth world, so many travelers seek in these small cities.
This hotbed of culture could give you an entirely new lease on life. It can show you what different cultures eat and customs native to their people while promoting fun and excitement for you and the family to enjoy.
There is never a dull moment in this city. It provides fun for everyone, no matter what their interest is. Art, music, cars, there are very few places where you can get all of these in one spot, and Richardson, TX does its best to do so.
What turned out to be a vacation could quickly become a second home. Richardson, TX is a place you will want to keep running back to whenever given a chance.